About us
The story behind the game
Lead Designer & CEO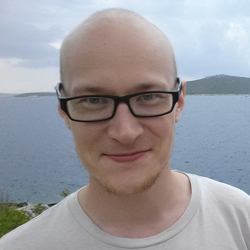 Hi! My name's Heikki!
I'm the lead designer of Smoke City and the boss at Connor Intergalactic. I'm a software developer by day, game designer and digital artist (VJ stuff, 3d mapping, interactive installations) by night. I used to run my own software company for some years, but nowadays I have my eyes on more creative pursuits.
Smoke City started out as a stoned idea between three friends. Some of the core mechanics, cards and a rough sketch of the map were born. A few years later, one fateful friday night I was stuck in my bed with a fever. Instead of watching BBC's Planet Earth for the hundreth time, I was filled with inspiration and decided to make an actually playable version of the game. I designed and wrote most of the cards during the weekend and the next couple of weeks. Soon I had a proper, playable copy with inkjet printed prototype cards and even a hand glued hard box for the game.
Now, a couple of years later, a lot has changed. Hired artists have drawn graphics for the game and numerous friends have helped playtesting the game. Since the beginning, the basic mechanics have stayed the same, but otherwise the game has evolved a lot – the last two years have been quite the journey!
I believe we're in a a tipping point – the next couple of years will change many laws internationally. I believe now is the time to work against prohibition and put the inane and harmful drug war into the past! I've never been very active politically, but I feel this is my moment on the soap box. I want to be part of the legalization wave changing the world, and this is why part of the profits of the game will be directed towards organizations working for legalization around the world. The more orders, the bigger percentage. Together we can push to make a difference!
The game has been born purely out of love for tabletop gaming. I sincerely hope you like it! 🙂
History of Connor Intergalactic
Almost fifteen years ago a group of teenage friends founded a secretive group called Connor. This group consisted of all sorts for scoundrels, most of all united by their passion for games. For years, this meant console & PC games. Many guilds, clans and teams in many games followed. Years passed and games changed.
Meanwhile, our group had been silently transforming into something new. Something bigger was to come. There were talented individuals in our group with creative drive – why stop at consuming games?
A few years ago, a new age started. A new name was needed. One not too modest for our world-spanning ideas. Connor Intergalactic was born, first as a space & time travel agency. The best agency on this side of Betelgeuse.
Now, after a couple of years of development, the launch nears for our first board game title Smoke City.